7/10/2007
Texas Legislature Continues to Divert Gas Tax Funds
One-third of the shortfall in transportation funding in Texas comes from spending gas tax money on unrelated social projects.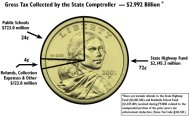 More than one-third of the money Texas motorists pay in driving taxes and fees is diverted into spending on projects that do not contribute to the upkeep and expansion of the road network. Texans pay $3.5 billion into the fund annually through the gas tax and various vehicle licensing fees that apply only to drivers. Of this amount, nearly $1.5 billion is spent on items more properly funded with general revenue, including $725 million on public education and $765 million on social welfare programs including tourism and medical care.

Supporters of several toll road initiatives maintain that there is no money State Highway Fund to pay for new projects. The Texas state constitution also mandates 25 percent in gas tax funds be diverted from transportation to shore up the public school system.

Representative Robert Puente (D-San Antonio) believes that motoring taxes should fund road projects. He introduced a constitutional amendment, House Joint Resolution 87, that would mandate 75 percent of gas tax and driving fee revenue "shall be used for the sole purpose of acquiring rights-of-way and constructing and maintaining such public roadways." His measure would keep the 25 percent diverted to the school system.

Had it been adopted by the legislature, voters would have been asked to approve the amendment on the November 6 ballot. Currently, Texas faces a $14 billion budget surplus.
Article Excerpt:
The following table shows the two-year budget spending on projects that do not contribute to the upkeep and expansion of the Texas road network. Supplied by the Texas Department of Transportation, as printed in the San Antonio Express News.



Agency
Amount
Diverted
Department of Public Safety
$1,245,108,574
Texas Education Agency
$100,000,000
Medical Trans-Medicaid Match
$85,381,725
Salary Increase for Schedule C
$22,291,710
Client Transportation Services
$22,363,606
Health and Human Services Commission
$20,000,000
Texas Workforce Commission
$13,658,704
Gross Weight Axle Fees
$10,800,000
State Office of Administrative Hearings
$6,736,396
Attorney General: Mineral Rights Litigation
$1,700,000
Commission on the Arts
$1,340,000
Historical Commission
$1,000,000
Regulation of Controlled Substances
$804,972
Silver Alert for Missing Senior Citizens
$224,990
Lufkin Tourist Information Center
$150,000
Total
$1,531,560,677
Source: Highway shortfall is worsening (San Antonio Express-News, 7/9/2007)



Permanent Link for this item
Return to Front Page