4/2/2007
Indiana: Millions Paid for Toll Road Proposals
Indiana consultants collect millions on toll roads.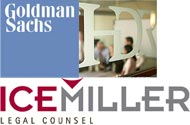 Plans to construct toll roads in Indiana have generated millions for companies involved in planning the projects. On March 24, Governor Mitch Daniels formally withdrew his proposal to create a number of additional toll roads in the state, citing massive public opposition.

"The people of the affected areas have spoken clearly enough to persuade me that these ideas are, at best, premature," Daniels wrote.

The state had planned to pay the engineering firm HDR $23 million for its consulting work on the Interstate 69 toll road extension, before the plan was canceled.

The state also paid investment firm Goldman Sachs $20 million and an Indianapolis legal firm, Ice Miller, $1 million for their work in selling the Indiana Toll Road to a consortium of Australian and Spanish corporations for $3.8 billion. Commercial drivers will pay significantly more to use the Indiana Toll Road. The top rate for trucks was raised yesterday to $49.25 for a single trip, increasing the cost of goods shipped within the state.

Correction: An earlier version of the story incorrectly stated HDR had been paid $23 million. That contract was, in fact, canceled.