8/18/2006
Missouri: Mayor Indicted for Taking Red Light Camera Bribe
A second photo enforcement vendor is involved with public officials seeking bribes in return for lucrative camera ticketing contracts.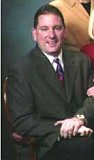 A federal grand jury yesterday indicted the mayor of St. Peters, Missouri for soliciting bribes from Redflex, an Australian red light camera vendor seeking to land a lucrative contract. According to the indictment, Mayor Shawn Brown, 34, told Redflex in early June that he would veto an ordinance establishing red light cameras unless the company handed him cash. Redflex quickly made out a check to Brown for $2750 and on June 16, 2006 Brown signed the ordinance into law. Redflex then called the Federal Bureau of Investigation.
"Shawn Brown, being an agent and employee of the City of St. Peters, did knowingly and corruptly solicit, demand accept and agree to accept something of value, to wit: a payment of $2,750 from Redflex, intending to be influenced and rewarded in connection with business and a transaction of the City of St. Peters involving an ordinance and a contract having a value of $5,000 or more to the city of St. Peters and Redflex," the indictment stated.
The U.S. Attorney for the Eastern District of Missouri filed the charge which carries a possible $250,000 fine and a ten year prison sentence. Redflex competitor Affiliated Computer Services is currently on trial in Edmonton, Canada for a similar offer of a
bribe to police officers
to land a lucrative photo enforcement contract.
Article Excerpt:

United States District Court, Eastern District of Missouri, Eastern Division

United States of America v. Shawn Brown
Case Number 4:06CR00506HEA

Indictment
Count One

The Grand Jury charges that:

1. At all times material to this indictment, the City of St. Peters, Missouri is a city within St. Charles County. Incorporated in 1910, St. Peters' population has grown to more than 51,000 according to the 2000 census. St. Peters is governed by an elected mayor and eight elected Aldermen representing four wards. The city is also served by a professional staff including a City Administrator.

2. In 2004, Shawn Brown was elected mayor of St. Peters and continues to hold that position to the present day. In that capacity, he is responsible for, among other things, signing ordinances passed by the Aldermanic Board into law. If the mayor signs a bill passed by the Aldermanic board, it becomes law. If the mayor vetoes such a bill, it does not become law unless the appropriate number of aldermen vote to override the mayor's veto.

3. At all times material to this indictment, Redflex Traffic Systems, Inc. ("Redflex") is a division of an Australian holding company headquartered in Scottsdale, Arizona that provides digital red light and speeding enforcement systems to local governments across the United States.

4. In early 2006, Redflex presented its products to officials with the City of St. Peters.

5. On June 8, 2006, the St. Peters Aldermanic Board voted on and passed Ordinance number 06-70 which authorized the City Administrator to execute an agreement with Redflex for the provision of digital traffic enforcement products. Friday, June 16, 2006 was to be the date on which Shawn Brown signed that ordinance into law.

6. Between or about June 8, 2006 and June 15, 2006, Shawn Brown communicated to the agent of Redflex responsible for the company's relationship with the City of St. Peters that he would veto the ordinance authorizing the city to contract with Redflex unless a payment was made to him. The agent of Redflex agreed to make the payment Brown demanded.

7. Shawn Brown signed ordinance 06-70 on June 16, 2006.

8. The next week, a Redflex check in the amount of $2,750 made out to Shawn Brown was delivered to Shawn Brown's home, per his instructions, in the City of St. Peters.

9. At all relevant times material to this indictment:

A. City of St. Peters, Missouri is a city within St. Charles County with more than 50,000 residents which received federal assistance in excess of $10,000 between July 1, 2005 and June 30, 2006.

B. Shawn Brown, the defendant, was an agent of the City of St. Peters, in that he was served as mayor of the city from 2004 until the present day. As mayor, Shawn Brown was empowered to sign bills passed by the St. Peters Aldermanic Board into law. Further, Shawn Brown had extensive duties regarding the long term planning and day-to-day governance of the City of St. Peters.

10. On or about the 15th day of June, 2006, in the Eastern District of Missouri, the defendant, Shawn Brown, being an agent and employee of the City of St. Peters, did knowingly and corruptly solicit, demand accept and agree to accept something of value, to wit: a payment of $2,750 from Redflex, intending to be influenced and rewarded in connection with business and a transaction of the City of St. Peters involving an ordinance and a contract having a value of $5,000 or more to the city of St. Peters and Redflex.

In violation of Title 18, United States Code, Section 666(a)(1)(B).

A true bill,
(signed by the foreman)

Michael W. Reap
Acting United States Attorney

(signed)
Thomas C. Albus #96250
Assistant United States Attorney