8/8/2006
Oklahoma Fights Speed Trap Towns
The Oklahoma Department of Public Safety takes action to shut down small towns that issue speeding tickets to shore up municipal budgets.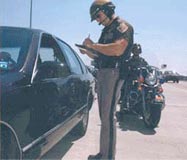 Speed trap towns are under fire in the state of Oklahoma where a 2003 law forbids municipalities from generating more than half its revenue from traffic citations. Already, Shamrock and Big Cabin have been stripped of their authority to issue tickets. Now, Stringtown and Kiowa are in the crosshairs.

Department of Public Safety inspectors spent two weeks going over records in those towns. A Tulsa World audit of 73 eastern and southeastern small towns found that one out of five -- fifteen towns -- relied upon tickets as the primary source of revenue in 2005.

Kiowa has adopted changes in light of the state police investigation. The town previously used only unmarked police vehicles. Now patrol cars will be painted. Kiowa has released five miles of territory it had annexed in order to ticket drivers on US 69. The police chief also pledged to start issuing warnings to motorists.

The towns that earn more money from traffic tickets than the sales tax are as follows, listed by the percentage of cash earned from tickets: Caney, Moffett, Kiowa, Stringtown, Sportsman Acres, Marble City, Talala, Tupelo, Big Cabin, McCurtain, West Siloam Spring, Boynton, Gans, South Coffeyville and Shady Point.