5/24/2005
Massachusetts: Town Cops Warn Motorists of State Speed Trap
Police in the town of Nahant, Massachusetts are flashing lights on their cruisers to warn motorists of a radar speed trap run by state police.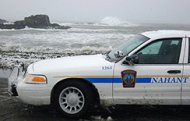 Motorists in Nahant, Massachusetts are the beneficiaries of a territorial dispute between the town's police force and state troopers. The town police are flashing lights on their cruisers to warn of a radar speed trap operated by the state police on the Nahant Causeway.

According to the Daily Item newspaper, Massachusetts State Police officers ordered the Nahant police to leave because they were "interfering with state police operations." The town police didn't budge.

Nahant police say that the state is targeting local residents and hitting them for 5 MPH over on a stretch of road where the limit drops from 45 MPH to 35 MPH.
Article Excerpt:
"We had a lot of complaints from Nahant police about speeding on the causeway and in the (Nahant Beach Reservation) parking lot," [State Police Sgt. Richard] Donovan said.
Police Chief William F. Waters said that is "an absolute lie. The Nahant police has never complained to the state about speeding cars on the causeway," Waters said.
Source: Staties, town cops clash on patrol tactics (Daily Item of Lynn (MA), 5/24/2005)



Permanent Link for this item
Return to Front Page