3/31/2005
Study: HOV/Carpool Lanes Cause Accidents
Texas Transportation Institute study finds that non buffer-separated HOV lanes cause a 50 percent increase in injury accidents.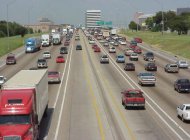 A newly released Texas Transportation Institute study suggests that High Occupancy Vehicle (HOV) or carpool lanes that are not separated from regular lanes with a physical barrier experience a 41-56 percent increase in injury accidents. Almost all new freeway lanes are set aside for HOV use only because federal environmental regulations strongly favor their use.
The main benefit promised by HOV lanes -- faster travel for carpoolers -- is what causes the accidents, according to the study. During peak traffic times, the speed differential between the regular lanes and HOV lanes ranges between 21 and 35 MPH. For example, a slower car trying to merge into the HOV lane may be rear-ended by faster moving HOV traffic that cannot slow down in time. Overall, the general purpose traffic lane closest to the HOV lanes experienced a 153-188 percent increase in injury accidents.
The study examined 1,150 individual crash reports from the I-35 and LBJ Freeways in Dallas, Texas from 1997-2000.
Full text of study available below in a 1.8mb PDF file.
Key Statistic:
Dallas corridors with buffer-separated concurrent flow HOV lanes did show a change in
crash occurrence with an increase in injury crash rates. The IH-35E North corridor experienced
a 56 percent increase in the injury crash rate. The IH-635 corridor experienced a 41 percent
increase in the injury crash rate. [Page 2]

The average number of injury crashes in
Lane 1 of IH-35E from 1997-2000 is 153 percent higher than the 1990-1994 average. The
average number of injury crashes number in Lane 1 of IH-635 from 1997-2000 is 188 percent
higher than the 1990-1994 average. An increase in the other general-purpose lanes was noted for
both corridors; but, the increase is not as substantial as the Lane 1 increase. [Page 30]
Article Excerpt:
The research team identified three key findings from the crash data analysis of Dallas
corridors with buffer-separated concurrent flow HOV lanes.

Increase in injury crash rate
Increase in injury crashes primarily focused in the HOV lane and the adjacent general-purpose lane (Lane 1).
Increase in injury crashes is likely due to the speed differential between the HOV lane and the general-purpose lanes. The general-purpose lanes experience congestion during peak periods, while the HOV lanes usually operate at the speed limit.
[Page 3]



The increase in injury crash occurrences in Dallas corridors with buffer separated HOV lanes is likely due to the speed differential between the HOV lane and the adjacent general-purpose lane. [Page 43]
Source:

CRASH ANALYSIS OF SELECTED HIGH-OCCUPANCY VEHICLE
(Texas Transportation Institute, 3/30/2005)
Regional News:
Other news about Dallas, Texas
Permanent Link for this item
Return to Front Page