2/13/2019
States Consider Cracking Down On Car Seizures
Proposals to limit the seizure of automobiles and other property by individuals who have not been convicted of a crime advance in three states.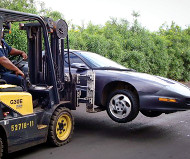 State legislatures around the country are considering laws to make it more difficult for police from taking cars away from motorists who have not been convicted of breaking any laws. In Hawaii, Michigan, North Dakota and Utah, lawmakers have advanced bills to reform civil asset forfeiture proceedings that are used to take property -- primarily cars, but also cash and other property -- on the mere accusation that the owner may have been involved in the drug trade. Sale of the cars and other property at auction generates millions for state and local budgets, but activists at the American Civil Liberties Union (ACLU) question the constitutionality of such programs.

"Law enforcement should be focused on public safety, not generating revenue," ACLU of North Dakota executive director Heather Smith said in a statement.

The group is pushing legislation that would block police departments from pocketing seizure cash by sending all auction proceeds to the public school system. The proposal, House Bill 1286, would also raise the burden of proof for seizures to "clear and convincing evidence" rather than the current standard that only requires police to prove it is more likely than not that the car was involved in a crime. The change would cost cities and county government $2,876,207 in revenue. A hearing on the bill was held by the House Judiciary Committee last week.

In Michigan, state Senator Peter J. Lucido (R-Macomb County) introduced legislation to make it harder for police to seize property from individuals suspected of minor drug crimes, unless those individuals have been convicted in a court of law. Accusations of suspected drug use served as the basis for 83 percent of property seizures in the state, worth a total of $13.1 million in 2017. Of these, 1418 people who had never been found guilty of anything nonetheless had their money and goods taken by police. Lucido's bill also requires the state to create forms so innocent owners can more easily challenge a seizure without spending more on an attorney than the car is worth. Senate Bill 2 was cleared last week for a final vote on the Senate floor after having received the endorsement of the Senate Judiciary and Public Safety Committee.

In Utah, the Senate Judiciary Committee voted 4 to 1 last week in favor patching the "equitable sharing" loophole that police have used to get around the restrictions of a voter-passed reform initiative. Under Senate Bill 109, police would no longer be able to seize property under federal law to get around state forfeiture restrictions because all profits from seizures would be deposited in a state fund. Senate Bill 109 would also enhance reporting requirements.

The Institute for Justice gave Hawaii a D- for its current asset forfeiture practices, and lawmakers are looking to raise that grade this year. The Senate Judiciary Committee on Tuesday gave preliminary approval to Senate Bill 1467, which requires a criminal conviction before property can be seized using the heightened "beyond a reasonable doubt" standard. If a borrowed car was taken, the state would have to prove that the owner knowingly consented to its use in a crime. The bill also sends the profit from seizures to the public school system.

"Each provision of this legislation is necessary to rectify the harms caused by our current system and to prevent its continued abuse," ACLU Hawaii policy director Mandy Fernandes testified last week. "We therefore urge the committee to pass this measure."

An audit report issued in June showed Hawaii police grabbed 597 cars worth $2,449,654 between 2006 and 2015. A copy of the pending legislation in the four states is available in a combined 1mb PDF file at the source link below.