6/22/2017
Virginia Activist Appeals Ruling Over Diversion Of Toll Road Money
Virginia free market advocate asks US Court of Appeals to overturn decision protecting the diversion of toll road revenue to transit.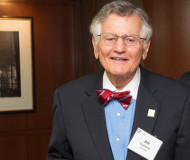 Free market advocate Phil Kerpen is not backing down from his argument that the Metropolitan Washington Airports Authority (MWAA) is violating the law when it takes toll money from motorists to fund a transit project. Since 2008, MWAA has used Virginia's Dulles Toll Road to finance a $2.8 billion Metrorail project. Last month, US District Judge James C. Cacheris said he was just fine with that.

Kerpen's attorneys this week filed additional paperwork petitioning the Fourth Circuit US Court of Appeals to overturn Judge Cacheris. The heart of Kerpen's argument is that the MWAA is an unconstitutional governmental body that was specially crafted to avoid public accountability. It has the power to tax drivers, spend and exercise eminent domain, but voters have no say in its operation.

Judge Cacheris did not buy any of these arguments, pointing to appellate court decisions that declare MWAA's tolls as a "fee-for-service" not a tax. The judge also saw no violation of the Constitution's Compact Clause, as many of Kerpen's arguments assumed the MWAA was exercising federal power.

"The only court to have squarely considered whether MWAA exercises federal power concluded that it does not," Judge Cacheris wrote. "That court noted that though it may partly owe its existence to an act of Congress, MWAA was in large part created by, and exercises the authority of, Virginia and the District of Columbia."

Congress wanted to give up federal control of Dulles International Airport and what is now known as Reagan National Airport by handing over control to MWAA. Kerpen argued that MWAA violated the federal law authorizing its creation by violating a clause stating revenue generated by the airport should be used "only for airport purposes." The district judge shot down this argument by pointing out the Federal Aviation Administration's "master plan" envisions transit service to Dulles Airport, and the MWAA lease and federal law requires the airport administrators to follow this plan.

"MWAA would effectively be advised to pursue, while at the same time forbidden to pursue, these projects," Judge Cacheris wrote. "That cannot be a proper construction of the lease and Transfer Act... In sum, plaintiffs have failed to sufficiently allege any violation of the Transfer Act and airport lease."

A hearing has not yet been scheduled on the appeal. A copy of the lower court ruling is available in a 350k PDF file at the source link below.