9/28/2012
US, UK Highway Accidents on the Rise
Latest US and UK transportation department figures suggest highway accidents on the rise.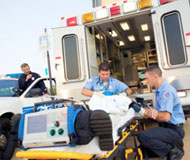 Accidents are becoming more frequent on highways in the United States and the UK. The US Department of Transportation this week released the early estimate for traffic fatalities during the first half of 2012. These preliminary numbers show the country will likely end the year having ended a six-year streak of declining fatality rates.

National Highway Traffic Safety Administration (NHTSA) statisticians counted 16,290 deaths on US roads through the end of June, a 9 percent jump from the previous year's 14,950 tally over the same period. This represents the largest six-month increase since NHTSA began tracking that statistic in 1975. Traffic volume is up 1.1 percent in 2012, so adjusting for the number of miles Americans drove in 2012, the fatality rate increased 7.7 percent from 1.04 deaths per 100 million miles traveled to 1.12. Even so, the change represents a blip upward in a trend that remains overwhelmingly downward. The early 2012 fatality rate reflects a 19 percent improvement from the 1.38 rate seen in the first half of 2006.

"While it is too soon to speculate on the contributing factors or potential implications of any increase in deaths on our roadways, it should be noted that the historic downward trend in traffic fatalities in the past several years -- a pattern which has continued through the early estimates for 2011 released recently that show deaths at a 60-year low -- means any comparison will be to an unprecedented low baseline figure," NHTSA's report explained.

In England, the number of accidents increased 2.8 percent from 1850 fatalities in 2010 to 1901 deaths in 2011, according to a report released Thursday. The Association of British Drivers (ABD) points out the 2010 figure was exceptionally low due to the recession in which road traffic dropped 1.6 percent, compared to 0.2 percent growth in 2011. He warned against politicians seeking to exploit the numbers to implement revenue-raising schemes.

"Given the exceptional circumstances of 2010, it is no surprise that the fatality figure rose slightly in 2011," ABD chairman Brian Gregory said in a statement. "While it is disappointing that there has been an increase in casualties associated with drink-driving, the overall picture does not warrant a knee-jerk reaction. Road safety policies need to be targeted at the irresponsible minority, such as those who drive recklessly or when impaired by drink or drugs. This means more police traffic patrols, not automated enforcement of minor technical offenses."

The report also noted there were 169 accidents -- 31 of which were serious -- caused directly by traffic calming devices such as speed bumps and chicanes. Only 5 percent of accidents were attributed to exceeding the posted speed limit ( view excerpt, 151k PDF). The British road casualty annual report now includes injury data from hospital admission records. This change occurred after the British Medical Journal exposed false government claims that speed cameras had reduced injury collisions.

A copy of the US fatality report is available in an 850k PDF file at the source link below.