2/21/2010
Australia, France: Speed Cameras Attacked In Courts, On Roadside
Australian wins court order to seize police property over bogus traffic camera reading, French vigilantes fail to burn speed camera.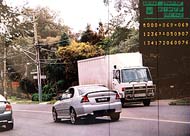 An Australian motorist turned the tables on officials last week with a court order in hand for the seizure of Victoria Police property over a bogus speed camera ticket he received in the mail. John King convinced a judge eight months ago that the automated ticketing machine was miscalibrated and produced faulty readings. King was awarded A$522 in court costs, but local officials failed to pay this debt. Heidelberg Magistrates' Court ordered the sheriff's office to seize $788 worth of property from the police to satisfy the department's growing legal obligation to King, the Herald Sun newspaper reported.

"If you are the little guy who cops a fine and you don't pay, the sheriff will be down on you like a ton of bricks," King told the Sun. "The hypocrisy of it is they have this campaign saying they are owed millions of dollars in fines. But they owe money themselves to people like me... I won a court order. Why am I still waiting?"

King has confounded local officials over the course of several years. In 2007, he used a speed camera company's own manuals, obtained only after a long and costly court battle, to show that the device used to measure his speed was operated well outside the manufacturer's specifications. The errors discovered were not mere technicalities. Instead, King's measurements showed that the camera readings were wildly inaccurate, and the courts have agreed (more info).

In France, vigilantes were less successful this week. An attempt to destroy a speed camera in Wittelsheim on Thursday at around 1:30am failed to do any serious damage. Alcohol-soaked paper was used to start a fire, but only the base of the unit located on the RN66 was burned. In 2007, vigilantes succeeded in disabling the device by covering it in green spraypaint, Le Pays reported.