10/29/2009
Mass Transit Programs Only Serve 6.9 Million Customers
Subways and buses take 20 percent of federal funding to serve only 5 percent of working public.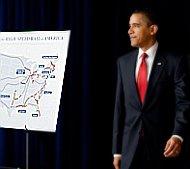 Despite the billions in federal and state taxpayer dollars poured into mass transit programs, only 6,908,323 working Americans take advantage of the subsidized service, according to US Census Bureau data released yesterday. The agency's American Community Survey, a questionnaire mailed to three million households, found that 121,248,284 workers over the age of 16 regularly commuted to work by personal automobile or carpool last year. Despite the comparatively small number served by buses, subways and rail, the Obama Administration has made expanding mass transit a top priority.

"President Obama's vision of robust, high-speed rail service offers Americans the kind of travel options that throughout our history have contributed to economic growth and enhanced quality of life," Transportation Secretary Ray LaHood said in April. "We simply can't build the economy of the future on the transportation networks of the past."

The stimulus bill poured $8 billion into the president's proposed expansion of rail. Another $8.4 billion in taxpayer funds have been directed to "stimulate" mass transit on top of the existing federal money set aside for such programs. The president's 2010 budget sought $42 billion for highway spending compared to $10.3 billion for mass transit programs that serve just five percent of the working public. The president strongly defended his priorities.

"Investing in mass transit and high-speed rail, for example, doesn't just make our downtowns more livable; it helps our regional economies grow," Obama explained in a July speech at an urban policy roundtable. "So you take an example like... Kansas City. One idea there focuses on transforming a low-income community into a national model of sustainability by weatherizing homes and building a green local transit system."

The combined federal spending on transit this year represents a $2300 subsidy for each passenger, not including local and state funds devoted to such programs. Taxes on motorists, including a direct 2.9 cent per gallon federal levy on gasoline, are the primary source of funds for subway, bus and rail systems.

The census survey also showed that greater numbers of the working poor used cars and carpools to get to work than transit. A total of 17 percent of transit users reported incomes over $75,000 per year in income while only 10.6 percent fell below the poverty line.

A copy of the census results can be found in a 1.5mb PDF file at the source link below.