5/23/2009
New Jersey: Pedestrian Fatalities Not Caused by Right Turns
New Jersey red light cameras focus on right-turn tickets, even though state and federal data show this rarely causes accidents.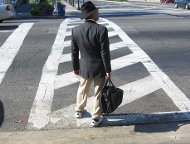 Nearly two dozen cities throughout the state of New Jersey are preparing to install red light cameras to ticket motorists. In order to "save pedestrian lives" these programs, like others throughout the country, will issue up to ninety-five percent of citations not to straight-through red light runners but to the owners of vehicles that make rolling right-hand turns on a red. This type of turn rarely causes accidents in the Garden State.

"We will continue to bring this revenue-enhancing and life-saving program to all of our neighborhoods," Newark Mayor Cory A. Booker said in a March statement announcing the expansion of its red light camera program.

Newark Police Director Garry F. McCarthy emphasized how the program would save the lives of pedestrians.

"Project Red Light will enhance our ability to enforce traffic ordinances and maintain safety for pedestrians and motorists alike without incurring additional expenses or duties for our officers," McCarthy said. "We are using the latest technology and partnerships to enable us to work smarter, and to eliminate the needless tragedies that result when motorists ignore red lights."

The Bergen, New Jersey Record newspaper obtained accident records from the state transportation department and found that no pedestrians were killed anywhere in New Jersey by drivers making right-hand turns in either 2006 or 2007. In fact, during the same period, nearly a quarter of all pedestrian fatalities could be attributed to drunks stumbling into traffic. The Record's findings match those of a US Department of Transportation report that showed right-turn on red collisions were rare (view study).

Despite the lack of evidence that red light cameras would do anything to protect pedestrians and despite a number of studies that show the devices have increased the overall number of injuries and collisions where they are used (view studies), municipal leaders have rushed to obtain specific state authorization to use the automated ticketing machines. Since Governor Jon S. Corzine (D) signed legislation in January 2008, authorization has been granted to Brick Township, Cherry Hill, Deptford, East Brunswick, Edison, Glassboro, Gloucester Township, Hoboken, Jersey City, Lawrence, Linden, Monroe, Morris Township, Newark, New Brunswick, Piscataway, Roselle Park, South Brunswick, Stafford, Stratford, Wayne and Woodbridge.