7/31/2008

Photo: Union Protests Redflex
Photograph of Carpenters Union workers protesting the photo enforcement company.

Redflex is an Australian provider of photo enforcement services for municipalities around the world. Members of the Local 1506 of the Carpenters Union Workers were photographed protesting the company in a labor dispute involving maintenance of the company's leased office space in Arizona. Correction: An earlier caption incorrectly identified protestors as Redflex employees. Redflex stated that it has no control over who the building owner selects to perform maintenance. We regret the error.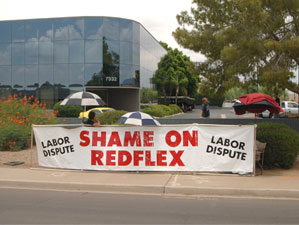 View full size.