4/10/2008
Texas: 260 Bogus Red Light Camera Tickets Tossed
Corpus Christi, Texas forced to cancel 260 red light camera tickets issued to motorists making a safe and legal right hand turn.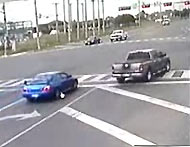 About 260 motorists wrongly accused of "red light running" in Corpus Christi, Texas will have their citations canceled. After receiving numerous complaints from innocent drivers, the Gulf Coast city was forced to admit that drivers who had safely stopped should not have been ticketed by the machine located at the intersection of Cimarron and Yorktown.

KIII-TV reported that motorists there must pull into the crosswalk to have a clear view of traffic before turning right. The red light camera, however, is set to photograph any vehicle that crosses the stop bar line a split-second after the light turns, even when the motorist makes a complete stop in the crosswalk for a better view before turning.

Police in Corpus Christi assert that they review video evidence of every single citation before the ticket is issued. Court testimony in a number of states shows that the more common procedure is that a stack of citations receive "bulk approval" without individual review. Corpus Christi police say that they will now look at video evidence and throw out tickets issued to cars that stop at the lights.

The bogus tickets would have generated almost $20,000 in revenue. Right turn traps are one of the largest sources of revenue for some red light camera programs.