12/10/2007
Texas Keeps Cash from Interest on Toll Transponder Accounts
The Texas Department of Transportation keeps interest generated on money that must be left on toll transponder accounts.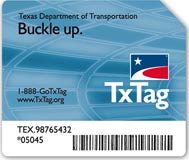 Motorists who use the TxTag electronic transponders to drive on Texas toll roads are having their accounts raided by the Texas Department of Transportation (TxDOT). The agency requires a bare minimum of $10 be kept in any account at all times. If the balance falls below this level, TxDOT automatically charges the credit card on file $20. TxDOT then pockets the interest accumulated from the accounts linked to the 390,000 vehicles equipped with TxTags.

An average account generates about $1 in interest every year. Although $1 is not much, Texas tolling authorities have mailed motorists bills for 25 cents in alleged unpaid tolls and added penalties of $5.25 on anyone who ignored payment of the trivial amount.

For TxDOT, keeping the interest on the $9.8 million in motorist accounts generates about $400,000 in annual revenue. The money helps defray the cost of the multi-million dollar Keep Texas Moving public relations campaign designed to convince Texans of the need for more toll roads.