10/13/2007
Texas: 50,000 Overbilled by Inaccurate Toll Transponders
TxTag toll transponder errors have resulted in 50,000 motorists being double-charged while driving on Texas toll roads.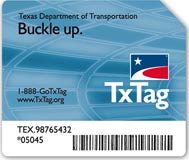 Texas Department of Transportation (TxDOT) officials earlier this week admitted that accuracy problems with the devices that read the TxTag toll transponders resulted in at least 50,000 motorists being overbilled while traveling on three Austin toll roads. An investigation discovered that antennae installed by the firm United Toll Systems were apparently misaimed, causing one in 600 passing cars to be double-charged.

TxDOT officials reassured the public by insisting that only one in 2000 motorists will be overcharged now, reducing the number of innocent motorists double-billed to just 15,000. United Toll Systems, however, continues to boast about its accuracy on its website, saying, "In fact, we are currently deploying our latest and greatest system to the Central Texas Turnpike Project and just completed system integration with zero defects!"

The problems are not limited to Austin. Almost 250 miles away in Tyler, Texas, motorists on the Loop 49 toll road are also being overbilled. At least sixteen motorists who checked their statements called in after noticing they had been double-charged.

TxDOT spokesman Larry Krantz told KETK television in an interview that this was a "statistically insignificant number."

"Just call it what it is -- a TaxTag," said Texas Toll Party founder Sal Costello.