6/27/2007
Canada: Meter Maid Tickets Trapped Car
A meter maid slaps a parking ticket on a car pinned under a fallen tree in Toronto, Canada.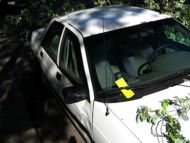 A meter maid in Toronto, Canada issued a parking ticket to a car last week after it had been trapped by a fallen branch. Heavy thunderstorms knocked over trees and downed powerlines throughout the city on June 19. One tree fell and pinned the Chevrolet Corsica that belonged to Tom and Elizabeth Koukodimos. While waiting for help to free their vehicle, a meter maid slapped a ticket on the windshield.

"There was a bright yellow parking tag on the windshield of the car. I was just shocked and so were the neighbors," Elizabeth Koukodimos told City News. "It was unacceptable, there's no way I could have moved my car."

Although the Chevrolet was parked in front of their home, a city ordinance prohibits street parking after midnight. The couple are challenging the citation in court.