5/29/2007
New Hampshire Supreme Court Upholds Roadblock Secrecy
New Hampshire Supreme Court ruling dispenses with advance notice requirement for DUI roadblocks.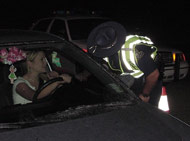 The New Hampshire Supreme Court ruled on Friday that police may conduct suspicionless roadblocks without first offering reasonable notice to the general public. In its decision, the unanimous court reaffirmed its position that no evidence could show the police tactic was not effective.

The case revolved around DUI roadblocks set up by the Portsmouth Police Department between July 8 and 10, 2005. The department sought permission for this activity in a July 5 petition to the Rockingham County Superior Court. The department's application promised an "aggressive" effort to advertise the scheduled roadblocks by contacting local media, setting up warning signs and issuing press releases. These methods were in accordance with guidelines established by the state attorney general.

"...There are no less intrusive means available to accomplish the goal of such checkpoints," a superior court judge wrote in approving Portsmouth's application.

Motorist Michael A. Hunt, arrested at one of the roadblocks, challenged its constitutionality. At trial, a Portsmouth District Court judge learned that the only notice police gave to the public was found in a newspaper with a circulation outside of the area where the roadblocks were held. The judge scolded the department for waiting until the last minute to seek approval of the roadblock, delaying the issuance of the press release until some time the day before.

"The evidence in this case establishes that in actuality, no aggressive advance notice to the public or envisioned advance publicity of this proposed sobriety checkpoint took place," the district court ruling stated. "The State could have postponed the checkpoint date to meet the terms of advance deterrent publicity and met its constitutional burden. It failed to do so."

The New Hampshire Supreme Court disagreed. It first held that roadblocks are always an effective deterrent to drunk driving, rejecting evidence that conventional patrols produced more arrests per hour than roadblocks (see data in Pennsylvania v. Beaman).

"Of course, low arrest numbers may demonstrate the relative ineffectiveness of sobriety checkpoints for the detection of drunk drivers, but such numbers may also demonstrate effective deterrence," the supreme court wrote. "In any event, the defendants have given us no reason to reconsider our belief that sobriety checkpoints may have a deterrent effect sufficient to outweigh the accompanying intrusion on individual rights."

The high court then held that advance notice, although important, is not a constitutional requirement for a roadblock. It also found that sending out a press release at the last minute, even when no member of the general public would see it, was in fact "advance notice," satisfying the promise the Portsmouth Police made to the superior court.

"Apparently, only one (newspaper) decided to print it," the high court wrote. "While more may have been better, we hold that in this case, one was enough."

The full text of the decision is available in an 80k PDF file at the source link below.