5/4/2007
Denver, Colorado Ticket Quota Uncovered
Denver, Colorado police confirm the existence of a numeric traffic ticket quota for officers.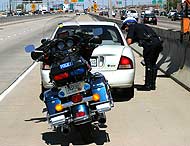 Police officials in Denver, Colorado confirmed that they have placed pressure on rank-and-file officers to issue a minimum number of traffic citations. Since September, those that have failed to produce have faced disciplinary action.

"We're always looking at performance," Denver Police Captain Eric Rubin told KCNC-TV. "If an officer is under the average set we might discuss it with the officer."

Motorcycle traffic officers must issue at least sixteen tickets in every eight-hour shift. With 26 traffic officers, that quickly adds up to 100,000 tickets per year and more than a million in revenue. All of the city's other officers have a reduced ticket quota to fill, in addition to their regular duties.

Rubin insisted that these requirements are not a quota. Instead, they are a "measure of performance."