1/18/2007
Maryland: Grandmother Beats Towing Fees
Towson, Maryland grandmother successfully fights the towing of her car at a Barnes and Noble bookstore.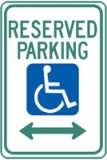 A grandmother in Towson, Maryland won a refund of the fees charged by a private company that towed her car just two days before Christmas. Carolyn Schweitzer, 65, had been shopping for a present for her granddaughter at a Barnes and Noble bookstore at 8pm when her green Volkswagen Jetta was hauled 23 miles away by Quick Response Towing.

Schweitzer had been looking for a "handicapped parking" sign when she pulled into the lot that evening and thought she was legally parked. She had missed the faded handicapped symbol on the dark pavement, a mistake that led to her car being impounded. Quick Response Towing charged $220 for its return -- and would have charged up to $900 if she failed to show up immediately.

Schweitzer was outraged and decided to challenge the companies involved. She learned that according to Maryland law, handicapped spots must meet certain legal requirements, including the posting of a clear sign so that motorists know the spot is reserved. Since this spot had no sign, the towing company had no case. As a result, Quick Response agreed to mail Schweitzer a full refund.
Article Excerpt:
Maryland Building Performance Standards Regulations
Title 5, Subtitle 2, Chapter 2

D. Parking Space Signs--Public and Private Facilities.

(1) The parking areas of all buildings and facilities, including the buildings and facilities of State and local governments, shall identify each accessible parking space by a sign.

(2) If the sign in Sec. D(1) of this regulation is:

(a) Not placed flush against a building, structure, or other location that does not obstruct vehicle or pedestrian traffic, it shall be at least 7 feet above the ground;

(b) Placed flush against a building structure or other location that does not obstruct vehicle or pedestrian traffic, it shall be at least 6 feet, and not more than 10 feet, above the ground.

(3) Signs shall bear the international symbol of access and the words "Reserved Parking", and shall be in conformance with the requirements for uniform traffic control devices under Transportation Article, Sec. 25-104, Annotated Code of Maryland. (See Regulation .12 of this chapter for explanatory material.)

(4) Each van-accessible parking space shall be identified with a supplemental sign in conformance with the requirements for uniform traffic control devices under Transportation Article, Sec. 25-104, Annotated Code of Maryland (See Regulation .12 of this chapter for explanatory material.)
Source: Car towed, but driver triumphs (Towson Times (MD), 1/17/2007)



Permanent Link for this item
Return to Front Page