11/22/2006
Bars, Casinos Swipe Personal Information from Drivers License
Bars and casinos are secretly recording the personal data of patrons from their driving licenses.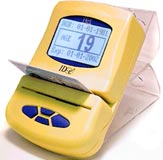 More than a thousand bars and casinos across the country are using a machine that reads and stores personal data from the driver's license of patrons as they enter. Most customers assume the $1500 scanning device is only used to validate the identification and verify the age of the holder. Instead, each device stores the name, address, height, weight, eye and hair color of thousands of motorists without their knowledge or consent.

The New Jersey nightclub KatManDu, for example, has built a database of fifteen thousand visitors in a single year with its scanning system. The owner told the Star-Ledger newspaper that the database would only be used for "in-house promotional purposes."

Nebraska, New Hampshire and Texas have outlawed the storing of data from driver's license. New Hampshire state Representative Neal Kurk (R) introduced legislation signed into law in 2002 that forbids the practice. He authored a second law forbidding the state government from storing biometric data on its licenses in 2004.

"That bill was part of a decade-long effort to ensure the driver's licenses are used only for the purpose for which they were intended, which is to operate a motor vehicle," Kurk told the Star-Ledger. "Privacy is very fragile and very easily lost."
Article Excerpt:
Full text of New Hampshire law protecting driver's licenses:

02-2366

STATE OF NEW HAMPSHIRE

In the Year of Our Lord Two Thousand Two

AN ACT relative to information on drivers' licenses and relative to motor vehicle records.

Be it Enacted by the Senate and House of Representatives in General Court convened:

242:1 New Paragraph; Drivers' Licenses; Prohibitions; Unauthorized Use of Personal Information. Amend RSA 263:12 by inserting after paragraph IX the following new paragraph:

X. Knowingly scan, record, retain, or store, in any electronic form or format, personal information, as defined in RSA 260:14, obtained from any license, unless authorized by the department. Nothing in this paragraph shall prohibit a person from transferring, in non-electronic form or format, personal information contained on the face of a license to another person, provided that the consent of the license holder is obtained if the transfer is not to a law enforcement agency. Notwithstanding any other provision of law, any person selling alcohol or tobacco who uses due diligence in checking identification to prevent unauthorized sales and purchases of alcohol and tobacco shall not be held responsible for the acceptance of fraudulent identification. Where due diligence is exercised on the part of the seller, the unauthorized purchaser shall be liable for any penalty or fine resulting from the unauthorized sale.

242:2 New Subparagraph; Motor Vehicle Records and Certification; Legitimate Business Defined. Amend RSA 260:14, I by inserting after subparagraph (c) the following new subparagraph:

(d) "Legitimate business" means a business which is registered in New Hampshire and which receives compensation in connection with matters of motor vehicle or driver safety or theft, motor vehicle emissions, and motor vehicle market research activities, including survey research.

242:3 Motor Vehicle Records and Certification; Legitimate Business Use. Amend RSA 260:14, V(a)(1) to read as follows:

(1) For use by a legitimate business in connection with matters of motor vehicle or driver safety and theft; motor vehicle emissions; motor vehicle product alterations, recalls, or advisories; performance monitoring of motor vehicles, motor vehicle parts and dealers; motor vehicle market research activities, including survey research, so long as the name and address of the individual is not disclosed by the department; and removal of non-owner records from the original owner records of motor vehicle manufacturers.

242:4 Motor Vehicle Records and Certification; Legitimate Business Use. Amend RSA 260:14, V(a)(4) to read as follows:

(4) For use by a legitimate business in research activities, and for use by a legitimate business in statistical reports, so long as personal information is not disclosed by the department.

242:5 Effective Date. This act shall take effect January 1, 2003.

(Approved: May 17, 2002)

(Effective Date: January 1, 2003)
Source: With ID swipe, Big Brother bellies up to the bar (Star-Ledger (NJ), 11/21/2006)



Permanent Link for this item
Return to Front Page