9/26/2006
California: City Collects Double on Parking Tickets
Santa Monica, California will refund nearly $1 million in parking tickets that it illegally collected.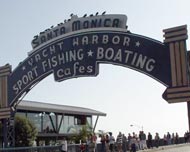 Santa Monica, California illegally collected $950,000 in revenue by double-billing 18,000 motorists for parking tickets over three years. Beginning October 1, the city will implement a new policy in accordance with state law and return some of the money to the motorists that it can find -- 80 percent of whom live outside Santa Monica.

Each year the city generates $12.6 million in revenue from $47 parking tickets issued to 320,000 motorists. The city often sends overdue payment notices to individuals who have already settled their debt. Instead of returning this payment, the city and its private contractor Affiliated Computer Services (ACS) have kept the money.