7/21/2006
New York: Village Refuses to Fix Cheating Parking Meters
Bellerose, New York admits parking meters are inaccurate but refuse to refund tickets given to the innocent.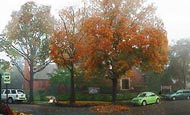 Parking meters in Bellerose, New York are cheating motorists, but village officials refuse to do anything about it. Attorney Gary Rosen has timed the twenty-year-old devices and proved that eight of twenty-five meters shortchange drivers by as much as eight minutes, meaning thousands of $40 tickets may have been issued to the innocent.

Even before the tests, residents knew of the problem and lodged complaints. Because the city has not listened, Rosen filed a class action lawsuit.

"It's ludicrous to think that you can file a multimillion-dollar claim ... over a few pieces of mechanical equipment that may have been faulty on a particular day," village attorney Richard Handler told Newsday. Handler had tested the meters and admitted two faulty units were fixed.

Village Clerk Rosemary Stimpfel told Rosen that if he did not like it, "don't do business in Bellerose."