1/31/2006
Akron, Ohio Reverses Course, Triples Speed Camera Fine
Akron, Ohio will continue its lucrative speed camera program with $100 tickets.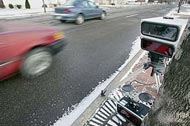 The city council in Akron, Ohio has once again increased the fine for owning a car photographed by a speed camera. In December, outraged constituents who felt they were trapped by the ticketing device bombarded the council with complaints. The camera had been issuing $150-250 tickets to those driving as little as 5 MPH over the limit in poorly marked school zones with no children present. The program raised $451,500 in revenue in just nineteen days. To quell dissent, the council retroactively lowered the fine to $35 and issued refunds for the difference.

As of February 22, however, tickets will be back up to $100. The council will also add flashing lights to seventy school zones to warn motorists in advance of the lowered speed limits.