12/11/2005
Ohio: Akron to Drop Speed Camera After Public Outrage
A brief speed cameras may come to an end after public complaints hit the mayor and city council.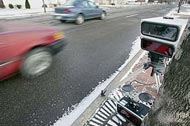 Akron, Ohio Mayor Don Plusquellic and city council President Marco Sommerville both want to cancel the city's experiment with mobile speed cameras. Over nineteen days in October and November, the system simultaneously raised $451,500 and the ire of a number of residents. Had the collections continued at that rate, the city would have raised nearly $9 million a year.

Although both officials are interested in ending the camera program, Sommerville wants to refund the fines already collected while Plusquellic wants to spend the half-million. The mobile cameras are operated by Nestor Inc. in return for a $19 bounty on each $150-250 ticket issued.

Cited drivers had a number of complaints about the accuracy of the device. Twenty-five drivers were cited for exceeding the Findley Elementary school zone limit before the classes let out and the speed limit dropped to 20 MPH. The majority of tickets were written for very low-speed offenses, with most in 25 MPH zones and 40 percent for driving less than 11 MPH over the limit. Some were driving just 25 MPH in a 20 MPH zone.

Ohio State Representative Jim Raussen (R-Springdale) suggested the efforts of Akron and other photo ticket cities did not reflect a proper holiday spirit. "Cleveland, Akron, Steubenville, and other cities are welcoming the colors of the holiday season in our state, but in this case it is the red of the stoplight and the green of the cash flowing into their coffers," he said.

Raussen is the sponsor of legislation to rein in the use of both red light and speed cameras within the state. His bill passed the House with a strong 72-23 vote in May. Senate consideration is expected early next year.