10/19/2005
Ohio: Woman Towed Over $2 Wins $2000 Settlement
An Ohio company that towed a grandmother's car over a $2 parking fee ended up paying her $2000 to settle out of court.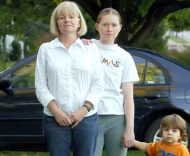 Laura Westendorf, 48, had her car towed away from a Cincinnati, Ohio parking lot in April. System Parking Co., which runs the lot on Ninth Street in the downtown area, claimed she did not pay the $2 lot fee. At Your Service Car Care charged her another $109 to get her car back.

Westendorf knew she had paid the $2 and wasn't going to back down. When she sued the parking and towing companies, they backed down and gave her $2000 to settle the matter out of court.

"All I ever wanted was my money back," Westendorf told the Cincinnati Enquirer.
Article Excerpt:
Tim Schenkel, the lawyer for the towing company, At Your Service Car Care, said the companies settled "to avoid wasting eight jurors' time and two days of the court's time." Westendorf thinks her time in the dispute was well spent. "I'm hoping to help other people from having this happen to them," she said.
Source: Motorist wins $2,000 in fight over $2 (Cincinnati Enquirer (OH), 10/19/2005)

Regional News:
Other news about Cincinnati, Ohio



Permanent Link for this item
Return to Front Page