7/6/2005
Italy's Highest Court Threatens Jail for Double-Parking
A double-parker in Rome receives a 15-day suspended sentence from Italy's Supreme Court.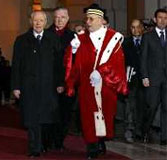 Yesterday, Italy's supreme court ruled that double-parking in such a way that another motorist cannot move his car was an act of "private violence" worthy of 15 days in jail and a 500 Euro (US $596) fine plus court costs. The high court found 44-year-old Rome resident identified as Luigi C. guilty of trapping motorist Michele C. in February 2004 but suspended Luigi's jail sentence.

Double-parking is a common problem in the Italian capital city. In Rome, parking spots are scarce and motorists are often trapped by those violating the traffic rules. Roman police hope the threat of jail time will deter parking offenders.