6/20/2005
Memo Proves New York Police Ticket Quota
NYPD cops need to issue 33 speeding tickets and 35 parking tickets each quarter to keep a good rating.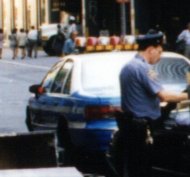 New York City police officers are required to write a minimum of 35 parking tickets, 33 tickets for moving violations such as speeding, 33 "quality of life" summonses and make 11 arrests each quarter according to a handwritten memo obtained by the New York Post. Failure to write a sufficient number of tickets will result in a poor performance assessment and other disciplinary action.

The memo surfaced as six cops challenged their transfer from a Brooklyn precinct after failing to produce a sufficient number of tickets.

NYPD officials deny that the practices described in the confidential memo constitutes a quota because other factors go into evaluating an officer's performance.
Article Excerpt:
"The evidence presented under oath in this arbitration proves once again what police officers have long lived with: There are established quotas, and if you don't meet them, you will be punished," said Patrolmen's Benevolent Association President Patrick Lynch.
Source: COP TIX QUOTA BARED (New York Post, 6/20/2005)

Regional News:
Other news about New York City, New York



Permanent Link for this item
Return to Front Page