6/12/2005
Oakland, CA Mayor: Jail Anyone Who Looks at Doughnuts
Former California Governor Jerry Brown proposes six months' jail time for spectators at 'sideshow' performances on the streets of Oakland.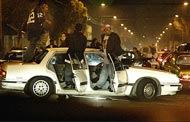 Oakland, California Mayor Jerry Brown is proposing draconian fines for not just the automotive street performers who create "sideshows," but for anyone who watches them perform as well. A sideshow can be as simple as a doughnut at an intersection or as complex and dangerous as an impromptu dance atop a moving car.

Police have already seized 1400 cars under the existing law allowing a car to be held for 30 days. Brown, who was California's governor from 1974-83, now proposes that the performer's vehicles be permanently confiscated and sold for the benefit of the city. His ordinance would also make merely looking at a sideshow a crime punishable by six months in jail and a $1000 fine.

Some time ago, Oakland forced large parking lots to close in the evening, pushing performers out onto the street.
Article Excerpt:
''This is Oakland gone wild," said Mayor Jerry Brown, who appeared before the City Council just after midnight Wednesday to press for passage of an ordinance that would make it a crime to attend sideshows.
Source: A car culture inflames a culture war (Boston Globe, 6/11/2005)



Permanent Link for this item
Return to Front Page