4/27/2021
Another Illinois Political Operative Indicted For Red Light Camera Bribery
Former Worth Township, Illinois supervisor indicted in federal probe of red light camera bribery.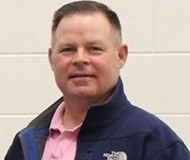 Federal prosecutors on Friday resumed their efforts to break up the red light camera bribery scheme in suburban Chicago, Illinois. Investigations had stalled during the Covid-19 virus scare, but they resumed with the formal charges filed against former Worth Township supervisor John O'Sullivan for taking bribes from Omar Maani, the co-founder of photo ticketing vendor Safespeed. As supervisor, O'Sullivan held the position of chief government executive in the town of 150,000 residents.

O'Sullivan and Patrick J. Doherty -- both powerful Democratic party operatives -- worked on the side as salesmen for Safespeed in return for a cut of the photo ticketing profit they were able to bring in. In 2017, their target was Oak Lawn, which had already signed a contract allowing Safespeed to issue red light camera tickets. To get the town's board of trustees on board with an expansion of the lucrative program, O'Sullivan allegedly used Doherty to funnel $4000 in cash from the Safespeed co-owner to one of the trustees -- disguising the transaction by giving the trustee's son a summer job. Doherty was recorded on May 25, 2017, agreeing to make the payments.

"I'll just pay it," Doherty told O'Sullivan on the intercepted phone call. "Just make sure we get the, make sure we get the [expletive] thing, the contract."

Doherty made it clear to the trustee's son that he had not been hired because of his merit.

"It's not like I need ya," Doherty said on an intercepted June 13, 2017, phone call.

Doherty explained to Maani in another phone call that he expected the payment was made, "just on the chance of, uh, that we can get the other ones in Oak Lawn and get [the unnamed trustee] on our side."

O'Sullivan resigned his position in February 2020 after learning that federal authorities were probing activities related to the Safespeed bribery scandal. Last year, Maani admitted his guilt by entering a deferred prosecution agreement. In return his turning evidence against his co-conspirators, Maani will avoid serving time in prison. A status hearing in Doherty's case is scheduled for May 19. A jury trial for former Crestwood mayor Lou Presta, accused of taking red light camera bribes, has been scheduled for December 6.