8/11/2020
Illinois: Another Federal Indictment In Red Light Camera Bribery Scam
Felony indictment handed down against Crestwood, Illinois mayor for taking Safespeed red light camera bribes.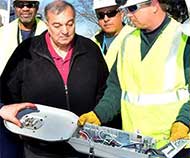 The current mayor of Crestwood, Illinois, will be arraigned Thursday on felony corruption charges related to his relationship with a red light camera company. According to the indictment unsealed Friday, Louis Presta faces up to eight years in prison if convicted of bribery, lying to federal agents and filing a bogus tax return.

US Attorney John R. Lausch Jr said that when the Federal Bureau of Investigation interviewed Presta about the allegations, the mayor denied taking cash, gifts and campaign contributions from Safespeed, the photo ticketing vendor. The FBI then confronted Presta with video of him accepting an envelope filled with $5000 in cash on March 7, 2018. Presta claimed the envelope was actually empty.

Presta was a champion of automated ticketing. In 2016, a Crestwood village news release "welcomed red light cameras" that Safespeed installed and operated. The devices were installed "after careful consideration and detailed analysis," the release claimed.

The village's own insurance company, Catlin Indemnity, understood otherwise. In 2017, it refused to cover the massive legal bills that were accumulating from a challenge to the controversial way Safespeed has been issuing automated tickets to vehicles making right hand turns at the intersection of Cicero Avenue and Cal Sag Road.

Thanks to the bribes, Presta made "substantially more" than the $97,566 that he declared on his calendar year 2018 tax return, prosecutors alleged. Presta joins former Illinois state Senate Transportation Committee chairman Martin A. Sandoval, who admitted to taking $250,000 in bribes from Safespeed in return for his work to kill anti-red light camera bills in the General Assembly. Patrick J. Doherty, the chief of staff to Cook County Commissioner Jeff Tobolski, was also caught bribing local officials on Safespeed's behalf. Chicago consultant William A. Helm was indicted for slipping cash to Sandoval so he would pressure the Illinois Department of Transportation. He entered a not guilty plea but is working on a plea deal.

US Magistrate Judge Young B. Kim set Presta's bail at $25,000. Presta has assembled a team of four lawyers to represent him against the charges.