2/3/2021
Federal Appeals Court Revives Florida Red Light Camera Challenge
Eleventh Circuit US Court of Appeals restores multi-million dollar unjust enrichment lawsuit against Florida red light cameras.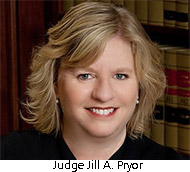 A $29 million class-action lawsuit against the use of red light cameras in North Miami Beach is headed to the Florida Supreme Court under an order issued yesterday by the Eleventh Circuit US Court of Appeals. The three-judge appellate panel found that a lower court judge made a mistake when he threw out the unjust enrichment claim levied against American Traffic Solutions (ATS, which since changed its name to Verra Mobility). The company levied an extra $7.90 "convenience" fee on motorists who paid the typical photo ticket online or over the phone, even though state law only authorizes a $158 charge. The appellate court noted this case has major implications.

"More than eight million notices have been issued for red light camera violations in Florida, including 1,054,234 issued between July 1, 2018 and June 30, 2019," Judge Jill A. Pryor wrote for the Eleventh Circuit panel. "So, the statutory issues raised by this case -- which will determine whether a vendor may add a surcharge to red light camera penalties in exchange for permitting individuals to pay their penalties by credit card -- may affect millions of Floridians and dozens of Florida's municipal traffic enforcement regimes."

The court noted that the only way that vehicle owners could avoid the fee was by writing a check or taking out a money order. Motorists' attorney Bret L. Lusskin argued that ATS/Verra Mobility is taking unauthorized commissions on each ticket, which unjustly enriched the Arizona-based firm by at least $29 million. Lusskin wants those fees refunded. The appellate panel found the technical question about whether the unjust enrichment claim applies to this situation depends on the interpretation of the word "commission" in state law that the panel did not want to decide.

"Principles of federalism and comity counsel us not to attempt to divine the answers to these challenging and important questions of Florida statutory and common law," Judge Pryor wrote.

The panel restored the lawsuit against ATS/Verra Mobility and certified two primary legal questions for Florida's justices to sort out.

"Did ATS violate Florida law when it imposed a five percent fee on individuals who chose to pay their red light traffic ticket with a credit card?" Pryor wrote. "If there was a violation of a Florida statute, can that violation support a claim for unjust enrichment?"

A copy of Tuesday's ruling is available in a 150k PDF file at the source link below.