9/10/2020
Virginia Considers Limiting Traffic Stops Over Minor Infractions
Police would no longer be able to pull over motorists over minor equipment violations under a measure passed by the Virginia Senate.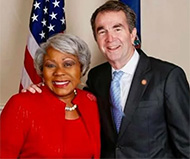 The Virginia House of Delegates meets in special session this week to decide, among other questions, whether to downgrade certain minor traffic violations. The state Senate voted 21 to 15 in favor of a measure that would stop police from pulling over motorists simply because they have loud mufflers, dark window tint, a dim license plate light or air fresheners hanging from the rear-view mirror.

State Senator L. Louise Lucas (D-Portsmouth) introduced the proposal as a reform measure that would also prohibit officers from searching a car by asserting that they smelled marijuana. Minor equipment violations are frequently used as a pretext for pulling over motorists that officers believe are up to no good. Court precedent allows pretextual stops so long as an officer can cite a valid offense after the fact.

By converting these four infraction categories into secondary offenses, police would be limited to pulling motorists over only if they could be accused of a "primary" offense, like speeding or failure to use a turn signal. Not all infractions have been downgraded. The General Assembly just made cell phone use behind the wheel a primary offense under a law that took effect in January.

"The Virginia State Police (VSP) believes that as a result of this legislation the agency will have to replace their drug detection canines and retrain each trooper assigned to a canine," the Virginia Department of Planning and Budget explained in a summary of the legislation's potential effects. "Costs associated with these efforts are one-time costs, and the agency should be able to absorb these costs using their existing appropriations."

The proposed downgrades to secondary offenses apply broadly to having defective or unsafe equipment. This includes running an aftermarket car or motorcycle exhaust system, having the wrong size of stickers on the window, having a crack in the windshield or tint with light transmission of less than 70 percent. A case over the traffic stops involving any object hanging from the rear mirror reached all the way up to the Virginia Supreme Court (view case). The proposed legislation would invalidate the ruling which had endorsed a traffic stop over military parking pass that hung from a mirror. Similarly, the state Court of Appeals upheld a stop over a third brake light that was functional and visible, but one of its bulbs had burned out so that it was not "perfect."

A copy of Senate Bill 5029 is available in a 100k PDF file at the source link below.