4/3/2020
Florida: Federal Judge Scolds Cops For Inventing Imaginary Traffic Offense
Judge says Fourth Amendment has no meaning if motorists can be pulled over for failing to stop at the stop bar of an intersection with no such bar.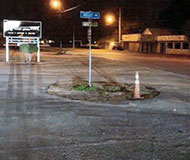 Jorge Sanchez on Thursday learned that his fate would not be fully decided until June 18. Judge Roy B. Dalton Jr put off a hearing on whether charges against the motorist would be thrown out entirely until after coronavirus worries subside. Sanchez had just learned last month that misconduct by the police officers who pulled him over was so egregious that the evidence of his methamphetamine possession had to be suppressed.

On October 8, 2019, Brevard County Sheriff's Office Sergeant Todd Beuer and Deputy Adam Steuerwald were running all of the plates for cars located near the intersection of Skelly Drive and Florida Avenue in Rockledge. They then saw Sanchez drive away from the house they were investigating. Sergeant Beuer ordered Deputy Steuerwald to come up with probable cause to conduct a traffic stop so that Sanchez could be questioned. He decided to write up Sanchez for failing to stop at a stop bar, but the justification did not pass the judge's smell test.

"Sergeant Beuer makes no bones about the fact that the stop was a pretext to investigate for drug activity," Judge Dalton explained. "Unfortunately for Sergeant Beuer, there was no stop bar at the intersection, a fact both he and the government now concede."

Sanchez did bring his car to a full stop before entering traffic, but prosecutors refused to drop the case. They insisted the officer made an objectively reasonable mistake about the law. Judge Dalton pointed out that this claim was hardly credible.

"Sergeant Beuer had walked back and forth on Skelly Drive at or near the intersection with Florida Avenue, so he had an opportunity to view the road surface condition and the general 'lay of the land,' both in his vehicle and on foot," the judge wrote. "Looking at the photographic evidence... it is difficult to imagine how a motorist might, at this particularly odd intersection, have any ability to see oncoming traffic from the left if stopped anywhere short of the point where Sgt. Beuer concedes Sanchez stopped his vehicle on this night. An added stop bar would have made the situation worse from a safety perspective."

The stop sign is located in a circular dirt island in the middle of a rough, pockmarked extension of the parking lot with no curb or sidewalk.

"If these facts qualify as 'objectively reasonable,' then the Fourth Amendment's protection against unreasonable search and seizure is simply not applicable to a pretextual traffic stop," Judge Dalton wrote. "The court should stop imbuing the 'objectively reasonable' officer with a cloak of constitutional comfort for justifications that strain credulity and discount the facts out of deference to their necessary 'game time decisions.'"

A copy of the ruling is available in a 400k PDF at the source link below.