1/17/2020
Federal Judge: Police Lie About Traffic Offense Cannot Be Reasonable
After officer claimed he saw an illegal lane change, judge looks at dashcam and sees good driving habits.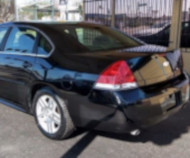 A dashcam video recording last week exonerated a motorist accused of an illegal lane change. Timothy Britton had been stopped on October 29, 2018, as he drove his black Chevrolet Impala on Poplar Street in Cincinnati, Ohio. Officer Caleb Sarchet claimed Britton failed to signal a turn at an intersection until he was already in the intersection, kicking off a chain of events that brought Britton before a federal judge facing drug charges.

During the stop, Officer Sarchet smelled marijuana, and a search of the Impala turned up twenty grams of the substance along with a Taurus 9mm pistol. The officer also wrote him a ticket for illegal window tint. Britton's public defender, Karen Savir, moved to suppress that evidence that boiled down to one simple argument -- the search was invalid because the traffic stop was bogus. Savir pointed to the video evidence.

Judge Michael R. Barrett watched the dashcam footage and found the officer's claims were untrue. Far from committing traffic violations, Britton was driving with care.

"The video evidence from Officer Sarchet's cruiser camera reveals that defendant activated his turn signal prior to approaching the stop sign at the intersection of Poplar Street and Linn Street," Judge Barrett explained. "The video also show that defendant's car approached that stop sign close to the righthand curb and that, after defendant made the right turn, he proceeded in a legal manner for some distance and safely pulled to the curb when Officer Sarchet activated his police cruiser's overhead lights."

After seeing the video, prosecutors tried to claim that illegal window tint justified the stop because the officer "could not make out any person or thing" when he looked through the back and rear side windows because it was so dark. Savir pointed to the statute that allows heavy tint on the back windows as long as the car has side mirrors. Given the video, Judge Barrett was not going to let the traffic stop justification stand as a "reasonable" interpretation of the law under the US Supreme Court's Heien decision.

"Hypothetically, if a police officer's alleged sole basis for a traffic stop was that a defendant ran a 'green light' (which is obviously not a traffic violation), the court doubts that the Supreme Court would determine that police officer's action to be objectively reasonable, as disregard of fact and law are not the same as a mistake of fact and law," Judge Barrett ruled.

A hearing on what happens next with Britton has been scheduled for next week. A copy of the ruling is available in a 60k PDF file at the source link below.