12/17/2019
Czech Mayor Arrested In Speed Camera Scandal
Five people including mayor arrested in speed camera corruption scandal in Varnsdorf, Czech Republic.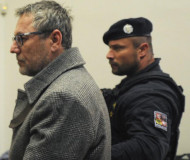 The political leadership of Varnsdorf, Czech Republic, was arrested last week for their suspected involvement in a speed camera corruption scandal. On Friday, the district court in Decin ordered Mayor Stanislav Horacek to be held in custody while Deputy Mayor Josef Hambalek was released pending trial. The pair on August 8, 2017, struck a lucrative deal with the photo ticketing firm Water Solar Technology that violated public procurement rules, according to the government regulator UOHS.

The automated ticketing contract at the heart of the scandal promised Water Solar Technology CZK 300 (US $13.10) tax-free for each ticket generated with the annual contract amount set at just CZK 1,000,000 (US $43,653). Signing a deal for the smaller amount meant the agreement was subject to more relaxed contracting rules. After a year, however, Water Solar Technology generated 59,793 tickets worth CZK 17,937,900 (US $783,044) -- far beyond the amount allocated under the contract in the town of 15,000 residents.

UOHS in July ruled this a clear breach of the public procurement rules, as there was no way officials did not know the contract amount would be breached within just three months. The regulator imposed a CZK 950,000 ($41,470) fine on the town.

The 59,793 in tickets were generated by illegal use of cameras in the village of Studanka, according to a lawsuit filed by the Interior Ministry. The government agency objected to the per-ticket bounty that the town paid to Water Solar Technology in violation of Czech law. Varnsdorf officials ignored the ministry's warnings, insisting what they were doing was fully legal.

Police have since raided the Varnsdorf townhall as well as homes of the mayor and Milos Schubert, the managing director of Water Solar Technology, as part of the investigation. A total of four individuals are charged in the conspiracy with Water Solar Technology, and the mayor faces up to twelve years in prison. Schubert faces up to eight years.

Corruption has plagued the speed camera industry worldwide. Public officials were caught on camera taking bribes from camera companies in Italy. A speed camera operator in Australia was arrested for manipulating speed camera readings to generate more tickets. Police in Canada were caught attempting to frame a speed camera critic with a false DUI charge. Massive US photo ticketing bribery scandals were exposed in Illinois, Ohio and Texas leading to jail time for the conspirators. View a full list of automated ticketing scandals over the last fifteen years.