8/22/2019
New Mexico Court: Warrant Needed To Open Car Door
New Mexico Court of Appeals rules that a police officer needs a good reason to open a car door during a traffic stop for speeding.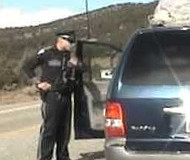 Police in New Mexico cannot open a car door during an ordinary traffic stop without first obtaining a warrant. That was the conclusion the state Court of Appeals reached last month in throwing out the evidence against motorist Liborio Martinez because his Fourth Amendment right to be free from unreasonable searches was violated.

On September 27, 2015, New Mexico State Police Officer Anthony Perez decided to stop Martinez for allegedly driving ten miles per hour over the limit. The officer became angry, however, when Martinez continued driving carefully for two minutes before pulling over in a safe location. Once pulled over, Officer Perez saw through the front passenger's side window that Martinez was holding a cell phone in one hand and trying to light a cigarette with the other.

Within four seconds, Officer Perez identified himself and opened the door. He said he thought Martinez might drive away. Once the door was open, though, the officer smelled alcohol. Martinez tried to explain this by pointing to an unopened bottle of beer in the back seat. That excuse was not good enough, as further investigation led to Martinez being convicted of drunk driving. He appealed, arguing that the officer never should have opened his door without a warrant, and the three-judge appellate panel agreed. The judges pointed out that the officer was investigating an alleged speeding violation, not a violent crime.

"The state has not cited authority to support the proposition that the possibility of a motorist's flight in his or her vehicle during a traffic stop provides a basis to open the door to a defendant's vehicle without a warrant or without some other justification under an exception to the warrant requirement," Judge Julie J. Vargas wrote for the court. "Furthermore, neither Officer Perez's testimony nor his dashcam video reveal any actions by defendant after pulling his car over that would demonstrate he might drive away."

The judges found that defendant lighting up a cigarette during the encounter made it more likely that he was trying to relax, not flee. The court also rejected the argument that, even without opening the door, the officer could have smelled the alcohol given enough time.

"We are not tasked with speculating as to whether Officer Perez could have detected the odor of alcohol had he continued with his traffic investigation, but rather whether he would have obtained such evidence through lawful means wholly independent of his illegal actions," Judge Vargas ruled.

The judges ordered the evidence against Martinez suppressed and sent the case back to the lower court. A copy of the ruling is available in a 200k PDF file at the source link below.