7/18/2019
Idaho Supreme Court Strikes Down Vague Car Temp Tag Rules
Idaho Supreme Court declares temporary car registration tag display law fails to provide sufficient guidance to motorists.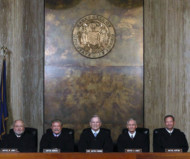 Idaho lawmakers need to go back to the drawing board and re-draft the rules for displaying a temporary vehicle registration on newly purchased cars. The state Supreme Court last week declared the current law to be unconstitutionally vague after considering the case of Samantha Nicole Cook.

Cook was driving on Highway 53 in rural Kootenai County on October 29, 2016, when sheriff's deputy Ryan Jacobson noticed her car had no front license plate. He did not see a temporary permit, and as he passed going the opposite direction he saw no rear license plate, either. He decided to pull her over. Once they had come to a stop on the side of the road, he did notice a piece of paper in the rear window, which was hard to read because of the condensation from the 39 degree weather conditions following rain earlier in the evening. He wiped away the condensation and could see it was valid.

The deputy smelled marijuana as he came up to the driver's window, which eventually led to Cook being charged with possession of heroin. She asked to have those charges thrown out because she should never have been pulled over in the first place. Under Idaho law, the temporary registration permit must be displayed "upon the windshield of each vehicle or in another prominent place where it may be readily legible."

Prosecutors insisted that it was not readily legible because the officer could not read it until he came up close to it and wiped the rear window with his hand.

"All the temporary permit statute appears to require is that the permit be displayed in a location that renders it readily legible and that it be displayed in that location while the vehicle is being driven," Justice John R. Stegner wrote for the high court. "The legislature could have easily included language requiring the permit to be 'clearly visible' or 'free from foreign materials,' which would apprise a motorist that if her window were to fog over she would be in violation of the statute. The legislature recognized that these factors would be important in the context of displaying license plates. However, it did not use language requiring the same for temporary permits."

The justices found it entirely reasonable that Cook thought she was in compliance by placing the permit in the rear window.

"The permit was posted in her rear windshield and was visible and readable when posted, and the permit remained in that location while her vehicle was operated on the highway," Justice Stegner explained.

Because the law failed to give clear guidance to the public, the justices declared the statute unconstitutionally vague. As a result, the court vacated Cook's conviction.

A copy of the ruling is available in a 60k PDF file at the source link below.