2/12/2019
Iowa Appeals Court Upholds Traffic Stop Of Car That Looks Fast
Iowa Court of Appeals upholds a traffic stop for speeding based on an officer pacing a Camry for 144 feet.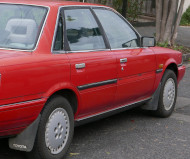 A police officer can now stop a car in Iowa that appears to be traveling fast after pacing it for just three seconds, according to a state Court of Appeals ruling issued last week. Marshalltown Police officer Jacob Fogt determined the red Toyota Camry driven by Russell Gentry Jr was breaking the law after pacing the sedan over the course of 144 feet on June 2, 2017.

"Officer Fogt testified his visual estimations were 'pretty accurate,'" Judge Thomas N. Bower wrote for the three-judge panel. "In addition to his visual estimation of Gentry's speed, Officer Fogt paced the Camry, making sure his speed and the distance between the vehicles remained the same."

Officer Fogt was following the Camry on North Fourth Avenue, which has a speed limit of 25 MPH. He estimated that the Camry was traveling at 30 MPH. He then maintained a constant distance behind the Camry for three seconds, or 144 feet. The squad car's speedometer and GPS both read 33 MPH.

At that low speed, and with the stop being made so swiftly, the difference between a legal speed and breaking the law was between one and two car lengths. For that reason, states like Pennsylvania have mandated that police must pace a car for at least 1584 feet for a ticket to be valid (see Pennsylvania Code Section 3368). As Iowa contains no provision of this sort, the appellate court found the evidence against Gentry sufficient for establishing probable cause to make a traffic stop.

"We conclude Officer Fogt's observations, both by visual estimation and pacing, support a rational inference Gentry was exceeding the speed limit and this gave the officer probable cause to stop the vehicle," Judge Bower wrote. "We affirm the district court's decision denying Gentry's motion to suppress."

Gentry had attempted to have the evidence thrown out on the grounds that the officer used the snap judgment on speeding as a pretext. The officer began following Gentry because there was nobody else on the road at the time. Gentry did not like that, so he decided to change his path.

"It seemed like they were just attempting to get away from me with all of the unnecessary turns," Officer Fogt explained.

Gentry, however, was not just on the hook for speeding. He had a suspended license, and he was carrying 37 grams of cocaine. As a result of last week's ruling, he faces up to ten years in prison.

A copy of the ruling is available in a 100k PDF file at the source link below.