1/30/2019
Spain Deploys Drones For Traffic Enforcement
Traffic agency in Spain supplements speed camera helicopters with drones to lower the cost of aerial ticketing operations.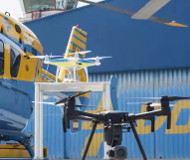 Over a decade ago, Spain's Direccion General de Trafico (DGT) became the first government agency to install speed cameras on helicopters for the purpose of issuing automated tickets from the sky. Now the same organization has turned to drones in an attempt to lower the high cost of aerial ticketing operations.

DGT currently has a fleet of nearly a dozen DJI drones, including the consumer grade Phantom 2 and Phantom 4 Pro as well as the professional Matrice 200 and S900 models. These devices can run for two hours at a time within a quarter mile operating radius from the drone pilot. The higher spec enterprise drones support a maximum four-mile range in exchange for a much shorter flight time.

"Incorporating these unmanned devices into the DGT's aerial surveillance services will contribute to better traffic management, greater protection for vulnerable groups -- cyclists -- and better service during special operations, such as MotoGP races," DGT director general Gregorio Serrano said in a statement.

In November, DGT tested a pair of drones alongside two speed camera-equipped helicopters that were used to issue speeding tickets during the MotoGP race in Valencia, which brought over 200,000 spectators to the coastal city. The airborne operation made a point of issuing tickets for "overtaking with two or more motorcycles in parallel." Spanish rules forbid riding more than two abreast. By December, the drone fleet expanded to eleven units that were used for traffic surveillance over Christmas.

The current drone fleet lacks the capacity to carry the sophisticated and heavy radar units used in DGT's helicopters. Even the newest, smallest photo ticketing unit in the DGT arsenal, the Velolaser from Invia Sistemas, weighs seven pounds. Even without speed measuring, a DGT promotional video shows the drones being used to record video of cars passing angry bicyclists on two-lane roads with the number plates visible in the zoomed-in footage. For now, the devices will be used to spot and ticket drivers making using cell phones behind the wheel or failing to wear a seat belt.

Aside from their $4 million up-front purchase price, it costs over $900 per hour to keep a Eurocopter in the air. The drones, by contrast, cost up to $5000 to purchase and have minimal running costs beyond the operator's salary. Each drone pilot will be trained and government-certified.