12/13/2018
Federal Court Says Police Can Run Non-violent Suspects Off The Road
Federal appeals court supports state trooper who rammed a woman off the road for failing to stop within 42 seconds over a paperwork violation.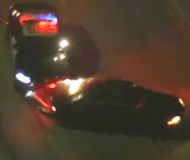 The Eighth Circuit US Court of Appeals thinks it is appropriate for police officers to use any force needed to ram a driver with an expired registration sticker off the road. That was what happened to Jerica Jena Moore-Jones as she was driving her white 2014 Dodge Challenger on Interstate 30 in Arkansas on November 7, 2015.

State trooper Anthony Todd Quick saw that he could issue an easy ticket, so he pulled behind Moore-Jones and turned on his overhead lights. Moore-Jones immediately slowed, but the road shoulder was unlit, dark and narrow -- less than the width of her car. She did not feel safe. So she proceeded at 35 MPH -- 20 MPH under the speed limit. So she proceeded for 42 seconds to find a wider spot, but the road was still narrow. Because she passed an exit, however, Trooper Quick decided to ram the Challenger off the road with the precision immobilization technique (PIT) maneuver. The Challenger was knocked into a ditch, sending Moore-Jones and her daughter to the hospital.

Moore-Jones sued the officer for using excessive force, and US District Judge J. Leon Holmes agreed the officer was out of line. After watching the dashcam video, the lower court judge did not believe Moore-Jones was fleeing. On appeal, however, a three-judge panel last month endorsed the trooper's conduct.

"The right to be free from a PIT maneuver in these circumstances was not sufficiently definite," Judge William Duane Benton wrote for the Eighth Circuit panel. "From a reasonable officer's perspective, she refused to comply with commands to pull over. In November 2015, Quick was justified in using some force to secure compliance."

The appellate judges cited a number of cases in which other courts had upheld the use of the PIT maneuver against reckless drivers fleeing the law. Moore-Jones had pointed out she was not reckless and she was "wanted" for a minor, non-violent infraction. The trooper admitted that Moore-Jones posed no danger to anyone, and his supervisor, Lieutenant Darran Austin "counseled" Trooper Quick after the incident.

"I reminded him that even though our EVOC program is changed and we are using the PIT maneuver, be mindful of the people that may not feel safe to stop in that location and may be moving to what they feel is a safer location," the lieutenant wrote in a November 23, 2015 memo.

The appellate court did leave open the possibility that Moore-Jones could sue for assault and battery if she could prove the trooper acted with malice. The case is back with Judge Holmes to resolve that question. That could be bad news for Trooper Quick, as Judge Holmes noted in an August 30, 2016, order that, at least in the early stage of the case, he was inclined to see the conduct as malicious.

"The Supreme Court of Arkansas has defined malicious acts or omissions to include those acts carried out 'with reckless disregard of the rights of another as to constitute the equivalent of ill will,'" Judge Holmes wrote. "It is reasonable to infer that Quick acted 'maliciously' -- with at least 'reckless disregard' -- by ramming Moore-Jones's vehicle off the road."

After ten years on the force, Quick retired. The state police commission awarded Quick his Glock 21 service pistol "as a token of their esteem and appreciation for service devoted to the Arkansas State Police."

A copy of the Eighth Circuit ruling is available in a 100k PDF file at the source link below.