10/3/2018
Federal Appeals Court Closes Door On Reckless Police Chases
Third Circuit US Court of Appeals says, going forward, police can be held personally accountable for high speed chases that turn deadly.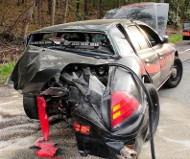 The Third Circuit US Court of Appeals on Tuesday gave a free pass to a Pennsylvania police officer who killed an innocent motorist during an unnecessary high-speed chase. The three-judge panel reluctantly cleared Nesquehoning Officer Steven M. Homanko while stating that, going forward, negligent cops would be held accountable for their actions.

"Because we conclude that it was not clearly established at the time of the crash that Homanko's conduct, as alleged in the complaint, could give rise to constitutional liability under the Fourteenth Amendment, we will vacate the district court's denial of qualified immunity," Judge Kent A. Jordan wrote for the appellate panel. "We hope, however, to establish the law clearly now."

On May 12, 2014, Michael Sauers and his wife Carola R. Sauers were headed south on Route 209 in their red 2007 Toyota Yaris when Officer Homanko saw that he could write a minor traffic ticket to the driver of a yellow Dodge Neon. The officer performed a U-turn and accelerated his 2009 Ford Crown Victoria squad car in pursuit of the Neon. Officer Homanko called ahead the department in the next town over, Jim Thorpe Borough, so that officers would be ready to stop the Neon.

"Homanko then decided that catching the Dodge himself was important enough to warrant a chase at speeds of over 100 miles-per-hour," Judge Jordan explained. "Several members of the public observed him driving recklessly."

As he proceeded around a curve, Officer Homanko spun out of control into the opposite lane of traffic, slamming into the Sauers' car, seriously injuring Michael Sauers and killing his wife. Homanko entered a guilty plea to the charge of vehicular homicide, but the Sauers family wanted to hold Homanko financially accountable for the hardships he had caused. The court agreed that the chase should never have happened.

"There was no emergency at all, and Homanko likely did the most that was warranted when he radioed the police in a neighboring jurisdiction to stop the offender," Judge Jordan ruled. "His hyper-aggressive decision to chase the Dodge cannot be justified."

Homanko, howver, insisted that he was shielded by sovereign immunity because it was not clear in 2014 that police officers could be subjected to constitutional liability for reckless behavior during a police chase, unless they had a specific intent to cause harm to others. The court agreed while deciding to change the standard going forward.

"We accordingly define the right at issue here as one not to be injured or killed as a result of a police officer's reckless pursuit of an individual suspected of a summary traffic offense when there is no pending emergency and when the suspect is not actively fleeing the police," Judge Jordan explained. "Police officers now have fair warning that their conduct when engaged in a high-speed pursuit will be subject to the full body of our state-created danger case law."

The court clarified that police officers would be given some leeway when making split-second decisions that go wrong in response to true emergencies.

"When there is no compelling justification for an officer to engage in a high-speed pursuit and an officer has time to consider whether to engage in such inherently risky behavior, constitutional liability can arise when the officer proceeds to operate his vehicle in a manner that demonstrates a conscious disregard of a great risk of serious harm," Judge Jordan concluded.

A copy of the ruling is available in a 500k PDF file at the source link below.