9/11/2018
Ohio Appeals Court Throws Out Dirty Car Stop
Ohio Court of Appeals finds implausible the testimony of a state trooper who justified a rental car stop by claiming it was dirty.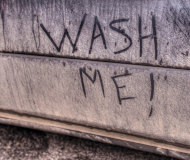 An Ohio state trooper was rebuked last month for stopping a car by claiming it was suspiciously dirty. The Ohio Court of Appeals was unanimous in finding that there had been no legitimate reason to stop Shaune Woods on on November 3, 2015. Woods was behind the wheel of a rental car that Trooper Drew Untied said was dusty and had highly unusual fingerprints on the trunk.

Trooper Untied also tried to claim Woods had been following other vehicles too closely. At trial, the Licking County Court of Common Pleas judge reviewed the dashcam video and found just about everything the trooper claimed was not true, noting that the presence of the police car was causing traffic to merge out of the left lane and into the lane in front of Woods. Woods was seen braking appropriately. The 'dirty car' claim was singled out for additional ridicule.

"The vehicle in the video appeared as clean any other vehicle on the highway that day," the lower court ruled. "After all, it was an early November evening in Ohio. Who knows what the weather conditions had been like the week, days, or even hours before the stop. It's Ohio. The point is weather can change quickly here. If that's the threshold by which traffic stops are made, then we're all in jeopardy."

Woods had been carrying illegal drugs that day, so the state appealed the lower court ruling so that it could have a second chance at convicting the man. The task before the three-judge panel was only to determine whether the initial traffic stop violated the Fourth Amendment prohibition on unreasonable seizures. They found no reason to disagree with the county judge.

"The weight to be given to the evidence and the credibility of the witnesses are issues for the trier of fact," appellate Judge W. Scott Gwin explained. "Reviewing courts should accord deference to the trial court's decision because the trial court has had the opportunity to observe the witnesses' demeanor, gestures, and voice inflections that cannot be conveyed to us through the written record Accordingly, the trial court's determination that the troopers did not have probable cause to stop Woods is supported by competent, credible evidence, and therefore the trial court properly granted Woods' motion to suppress."

A copy of the ruling is available in a 50k PDF file at the source link below.