5/15/2018
US Supreme Court Upholds Ride Sharing Privacy
Rental car drivers, even those not authorized on the rental agreement, may not be searched without a warrant by police.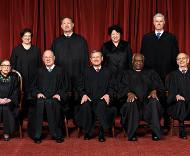 1Drivers of borrowed vehicles cannot be pulled over and searched without probable cause, the US Supreme Court unanimously ruled on Monday. Justice Anthony Kennedy delivered the opinion of the court that police may not randomly search rental cars simply because the drivers do not own the vehicle.

"The court now holds that, as a general rule, someone in otherwise lawful possession and control of a rental car has a reasonable expectation of privacy in it even if the rental agreement does not list him or her as an authorized driver," Justice Kennedy wrote.

The high court took up the case of Terrence Byrd who was behind the wheel of a Ford Fusion rented from Budget. While traveling through Harrisburg, Pennsylvania, on September 17, 2014, Byrd caught the attention of state Trooper David Long, who was parked in the median of Interstate 81 running a speed trap. The officer noticed the Fusion was a rental and the driver's seat had reclined to an "unusual degree." So he ordered Byrd to pull over, and after checking Byrd's paperwork (he was not listed on the rental agreement), the trooper decided he did not need permission to search the car. When the trooper did, he found heroin. The court was asked to rule whether the initial stop violated the Fourth Amendment.

"Few protections are as essential to individual liberty as the right to be free from unreasonable searches and seizures," Justice Kennedy explained. "Answering that question requires examination of whether the person claiming the constitutional violation had a legitimate expectation of privacy in the premises searched."

The owner of a vehicle has a clear privacy interest in his car, but here the Fusion was rented by a friend on Byrd's behalf. Prosecutors argued he had no more standing than a common thief to complain about the search. The high court rejected that idea outright, pointing out it would merely be a violation of the contract, not a ceding of a fundamental right.

"Putting the government's misreading of the contract aside, there may be countless innocuous reasons why an unauthorized driver might get behind the wheel of a rental car and drive it -- perhaps the renter is drowsy or inebriated and the two think it safer for the friend to drive them to their destination," Justice Kennedy wrote.

The high court sent the case back to the lower courts to determine whether someone renting a car in a fraudulent manner for the purpose of smuggling heroin should be treated differently for the purpose of a search than someone with a more innocent explanation for being left off the rental agreement.

A copy of the ruling is available in a 200k PDF file at the source link below.