3/20/2018
Trucking, Automobile Groups Team Up Against Pennsylvania Toll Road
National Motorists Association and Owner Operator Independent Drivers Association demand refunds for excessive tolls on the Pennsylvania Turnpike.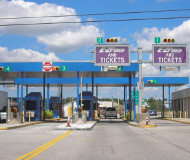 Independent groups that represent the interests of truckers and motorists are challenging the heavy tolls imposed on users of Pennsylvania's highways. The Owner Operator Independent Drivers Association (OOIDA), which represents 160,000 commercial truck drivers who own their own rigs, teamed up with the National Motorists Association (NMA) last week to argue that the Pennsylvania Turnpike Commission (PTC) uses excess toll profit to pad state coffers in violation of the interstate commerce clause.

The groups on Thursday filed a class action lawsuit in the US District Court for the Middle District of Pennsylvania challenging the fees levied on the massive network of toll roads stretching 552 miles across the Keystone State. Thirteen percent of the 192 million trips on the toll road were taken by commercial trucks, but truckers account for half of the $443 million in profit the turnpike generates annually.

Under a state law known as Act 44, the Pennsylvania Turnpike Commission must hand over a significant portion of tolling proceeds to PennDOT for uses that have nothing to do with servicing the toll road. So far, Act 44 has diverted $6 billion in toll profit away from uses related to the toll road.

"Is it any wonder that the Pennsylvania turnpike toll rates have increased more than 200 percent since the mid-2000s, placing the burden of that debt on road users?" NMA president Gary Biller told TheNewspaper. "At a time when other states are considering the tolling of more roads to raise funds, this suit sends a strong message that truckers and motorists are not willing to serve as ATMs for the government."

Currently, a trip across the state costs $47.55 for a car and can cost up to $1836 for a commercial truck. The tolls are more than double what they need to be to pay for the road's operational costs.

"The right to move freely, by automobile, is implicit in the concept of ordered liberty and finds ample support in the Commerce Clause, the Privileges and Immunities Clause, and the Due Process Clause of the Fourteenth Amendment," the groups' attorney, Kevin J. McKeon, wrote to the court. "The unlawful conduct of defendants is ongoing and is causing, and will continue to cause, irreparable harm to plaintiffs and to all users of the Pennsylvania Turnpike.... Defendants, acting under color of state law, have imposed and continue to impose tolls that act as an unconstitutional impediment to plaintiffs' and class members' right to travel."