3/9/2018
Louisiana Ticket Quota Caught On Tape
Police officer in Gretna, Louisiana records his superiors ordering him to issue more tickets to make up lost revenue.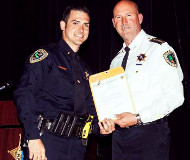 Police officials nearly always insist that ticket quotas are a myth. The denials, however, did not hold up in Gretna, Louisiana, where former Officer Daniel Swear produced a set of audio recordings in which his superiors told him in no uncertain terms that he had to step up the production of tickets solely for revenue purposes.

"That was my professional adult version of finding out Santa Claus wasn't real," Swear said in a deposition.

Swear sued his former employer for discrimination after he was forced to resign for not being sufficiently productive. The department expected its officers to write a minimum number of traffic tickets and arrests.

"Each day try to maintain your goal, one arrest, one summons," Lieutenant J.R. Rogers said on tape. "[People like triple murderer] Mark Pickens don't count because there is no money going into the system. Those guys don't go to court. They don't pay their fines."

Each officer's ticketing numbers were tallied during roll call and displayed on a scoreboard in Captain Scott Vinson's office.

"The ticket thing is all about the money," Sergeant Danielle Rodriguez says on tape.

Swear believed this conduct was unlawful. He filed a complaint with the Federal Bureau of Investigation and the state attorney general. He made no secret of his opposition to the quota policy, driving around with a plate on the front of his car referencing Louisiana Revised Statute 40:2401.1 -- the ban on ticket quotas (view plate). He was ordered to get rid of the plate. Swear and another officer, Paige Brittany Brouillette, confirmed that Captain Vinson would justify the quota during meetings by by explaining the department received $1 million from speed cameras, and the money went into the officers' retirement fund, and this revenue had to be maintained at all costs.

"The patrol division used $1 million from the money generated by the Redflex camera cars and that there was a concern that that particular type of enforcement would go away because people were constantly challenging the constitutionality of it and they didn't know what they were going to do if they no longer had the funding from that," Swear testified. "So his goal then, or his task, was to make the patrol division financially independent of Redflex."

After hearing all the arguments, US District Judge Nannette Jolivette Brown in January dismissed most of the claims against individual police officers, but she allowed the lawsuit against the city itself to proceed to trial.

"Plaintiff has put forth sufficient evidence to permit a reasonable trier of fact to find that plaintiff spoke on a matter of public concern when he spoke out against the alleged quota system implemented by the Gretna Police Department," Judge Brown ruled. "A reasonable trier of fact could find that the animus of the constitutional violation was the existence of a policy of implementing quota systems."

Gretna police officials insist that they do not have a ticket quota. A copy of the January ruling is available in a 600k PDF file at the source link below.