1/26/2018
Canadian Study Uses Video Analysis To Track Bicycle, Motorist Conflicts
Canadian researchers use computer analysis of video footage to find engineering improvements at intersections.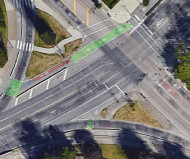 Bicycle activist groups frequently call on police to crack down on motorists who commit minor violations. A paper presented earlier this month to the Transportation Research Board annual conference in Washington, DC suggests it is the bicyclists, on average, who are more likely to be violating the law.

"Cyclist non-conforming behavior factors contributing to vehicle-bicycle collisions include not using hand gestures to announce intentions, performing abrupt or sudden maneuvers in proximity of vehicles, and failing to identify vehicles in the cyclist's proximity," the University of British Columbia researchers explained.

Vancouver decided to use computer-assisted analysis of video to directly analyze conflicts between automobiles and bicycles at test locations in Vancouver, Canada. An automated system classified traffic incidents after processing 53 hours of video between April 11-15, 2016. The "computer vision" techniques were meant to provide a more accurate look at the underlying causes of safety problems than looking at accident records and making assumptions about what happened. Here, the researchers created heat maps that identified the most problematic areas so that the city could focus its effort on developing engineering fixes.

The study counted the number of observed violations of the traffic code for cars, bicycles and pedestrians. For automobiles, the most common violation was "stopping over the bike lane or not yielding," which happened 8 percent of the time. By contrast, pedestrian jaywalking was more common at 11.5 percent of the time, and cyclists refusing to dismount before crossing the street in one of the crosswalks 10.5 percent of the time.

"Out-of-bounds violations by cyclists and pedestrians were relatively common, due to the pedestrian crossing restriction and lack of a marked bicycle crossing through the WB approach," the study noted. "Common violations also related to cyclist use of sidewalks, perhaps due to cyclist discomfort on less-separated facilities."

Bicyclists were also caught violating the 50 km/h (31 MPH) speed limit on the downhill stretch of Burrard Street.

To address the conflicts between bicycles and automobiles, the team proposed a new intersection design that separates the different modes of tranportation and restricts right-hand turns. The researchers intend to report on the safety impact of the changes later this year to validate the use of computer vision as a safety tool.

A copy of the paper is available in a 1.2mb PDF file at the source link below.