12/6/2017
Ohio Speed Trap Town Busted By State Auditor
Brice, Ohio generates 73 percent of its revenue from speed cameras but fails to properly track the citations.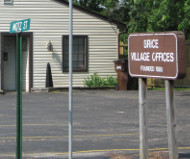 The Ohio State Auditor on Tuesday took the village of Brice to task for the slapdash accounting practices of its photo enforcement program. The notorious speed trap town generated so many complaints that the state House in June unanimously passed a bill to crack down on tiny villages that set up radar traps, but the state Senate blocked the measure.

According to the state auditor's report, Brice generated 73 percent of its general fund revenue from speed cameras. Motorists passing through the town of 110 residents found the speed limit plunge from 35 MPH or 50 MPH down to 25 MPH, and many were photographed by speed cameras concealed within orange construction barrels. Officers with handheld speed camera guns also dished out $125 tickets at a high rate.

Those tickets were generated under a program run by Blue Line Solutions and Brekford, the companies that process the photos, maintain the camera equipment, decide who is guilty, mail out the tickets, collect the fines and, after taking their split of the profit, they deposit the cash in the town's bank account. For its part, Brice failed to maintain adequate records for this program, so that the auditor had no way of knowing whether all of the cash being generated is being properly handled.

"In 2016, the village failed to maintain approvals of tickets submitted to Brekford Corporation and Blue Line Solutions, LLC for the photo speed enforcement program," the auditor explained. "As a result, we were unable to obtain sufficient appropriate audit evidence supporting the amounts recorded as camera speed enforcement fines."

As a whole, the village's financial records were not up to the required standards for municipalities, but the village has ignored the repeated recommendations of past state audits. Because the village exercises no oversight over the photo ticketing program, the private contractors run the show for the town's biggest source of income.

"The village has not established procedures to determine if these organizations have sufficient controls in place and are operating effectively to reduce the risk that civil violation receipts have been posted, billed and disbursed in accordance with the village's contracts and ordinances," the auditor wrote.

Brice was busted in 2006 for operating a mayor's court in violation of state law. A copy of the audit report is available in an 800k PDF file at the source link below.