8/2/2017
Texas Dumps Failed Toll Road
Cesar Chavez toll lanes in El Paso, Texas will be free to use after state officials admit the project is not financially viable.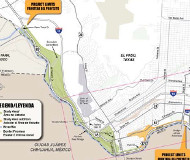 Tolls will soon be removed from the Cesar Chavez Border Highway in El Paso, Texas. The 8.9 mile express lane project near the border with Mexico opened to much fanfare in 2014, the product of a massive push by state transportation officials to charge motorists extra for a "more reliable commute" that bypasses heavy traffic on Interstate 10.

The route was supposed to be one part of a much larger regional tolling network, but that dream ended last week when the Texas Transportation Commission voted to pull the plug. The commission gave the Camino Real Regional Mobility Authority (CRRMA), which is run by El Paso County officials, permission to begin working on pulling down the tolling equipment so that motorists can use all of the lanes for free.

"The commission has determined that it is appropriate to remove the toll project designation from the Cesar Chavez Express Toll Lanes, subject to the CRRMA board of directors approving the removal of tolls from the Cesar Chavez Express Toll Lanes," the commission's July 27 order stated.

State taxpayers began heavily subsidizing the project in 2007, which was estimated at the time to run between $400 to $600 million. The profits that local officials expected, based on a software traffic simulation called DynusT, proved wildly optimistic. According to the latest financial data, the road was supposed to have collected $334,100 in the current fiscal year. Instead, it took in just $174,766.

The road has never turned a profit, with the cost of expenses, operations, insurance and maintenance of the tolling equipment running $1.7 million from 2014 to the present. The current budget shortfall is $751,639.

The failure of the managed lanes project is not unusual, as the vast majority of high-profile tolling project gone belly up. One of the first to go under was the 91 freeway high occupancy toll lanes in Orange County, California, with county taxpayers in 2003 paying for more than the original cost of construction to buy back the project from a foreign company. More recently, the SH130 toll project in Austin went under. The Indiana Toll Road went bankrupt in 2014. San Diego's South Bay Expressway went bankrupt in 2010 and was bought out by county government. California's Foothill-Eastern Transportation Corridor Agency, which runs the 241, 261 and 133 toll roads in Orange County, has been teetering on the edge of default despite $1.7 billion in subsidies from the taxpayer.

In South Carolina, the Greenville Southern Connector went bankrupt in 2010. Transurban, the Australian company that runs the Pocahontas Parkway in Richmond, Virginia, wrote down the toll road as having a value of $0 in 2012.