6/1/2017
Ohio Court Upholds Right To Warn Of Roadblocks
The public has every right to warn motorists of an upcoming drunk driving roadblock under an Ohio Court of Appeals ruling.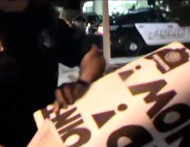 Ohio residents have a right to warn fellow motorists when police set up a roadblock, the state Court of Appeals ruled last week. Officials in the city of Parma attempted to use obstruction of justice charges to jail Douglas E. Odolecki, an activist with Greater Cleveland Cop Block, a group that documents police misconduct. The Parma Municipal Court sentenced Odolecki to eight months in jail for holding the sign and videotaping police in an unrelated incident.

On June 13, 2014, Odolecki saw a roadblock had been set up at State Road and Tuxedo Road, so he went a few blocks away so he could warn them in time to avoid the obstruction with a sign that read: "Checkpoint Ahead -- Turn Now." This infuriated officers at the scene.

"We need them to come through the checkpoint to educate them," Lieutenant Brian McCann told Odolecki.

The officers said Odolecki could hold a sign, but he had to make a new one that did not say "turn around." Odolecki politely refused, and he was given a misdemeanor citation for obstruction. A second officer, James Manzo, confiscated the original sign. Odolecki upon learning Manzo's identity less politely jeered that Officer Manzo had just cost the city $40,000, referring to the payment made to settle a police brutality lawsuit accusing Officer Manzo of smacking a 16-year-old boy in the back of a head with a flashlight during a traffic stop.

The appellate court outright rejected the argument that Odolecki's sign constituted obstruction.

"Checkpoint warnings by the authorities are constitutionally required to inform the public of the possibility of detention," Judge Anita Laster Mays wrote for the three-judge panel. "Odolecki's sign served the same purpose of warning the public of the sobriety checkpoint. The vehicles had not yet approached the area beyond which they could not voluntarily exit the checkpoint funnel so the statement 'turn here' was accurate as to the legal option to do so, and vehicles were not required to do so. Further, the police would have no right to follow vehicles that chose to turn around prior to entering the funnel."

While Odolecki was completely cleared over the drunk driving roadblock sign-holding incident, the court upheld a conviction for a July 29, 2015 incident in which the journalist recorded police interacting with a suicidal teen after being told to stop.

A copy of the decision is available in a 90k PDF file at the source link below.